Arena Calendar
If the arena is rented for a clinic or reserved for a 4-H ring practice, it is not available for open riding.

If you wish to host a clinic or practice at CCHPC, please contact an officer or board member for more information.

Arena Rules
Members and participants are expected to know the rules of CCHPC and abide by them. In general, please leave the grounds in the same or better condition than you started. We all support CCHPC as volunteers but have other responsibilities as well.
*Do not leave anything in the arena. Barrels may be used, but cannot be left in the arena as it can cause issues with the ground.
*All gates must be chained closed.
*Please pick up all of your trash and do not litter. If you can spare an extra few minutes and see trash, we appreciate it being picked up and placed in the dumpster.
*Be respectful of this great arena and the general area.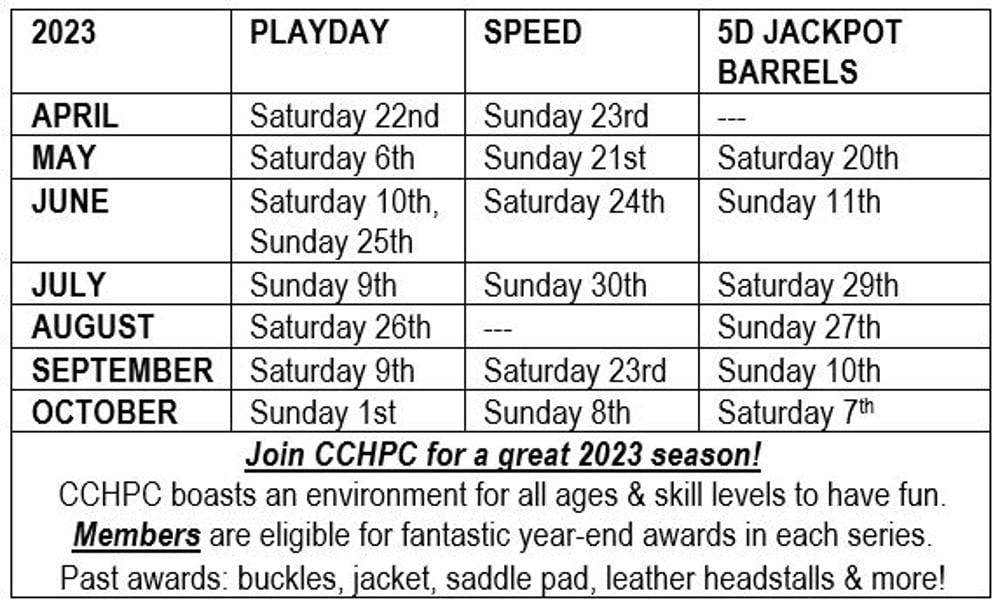 2023 Event Schedule
*PlayDay - 4-H based, includes pleasure & pattern classes along with trail & speed for 5 age groups
*Speed - All speed classes for 5 age groups plus an extra jackpot class for each event for earning payback
*5D Barrels - jackpot series, includes peewee, youth & open barrels plus 3D open poles